Knuckle bender coil spring
Art. N°: 35801
10 pcs.
Designed to assist the intrinsic muscle weakness, e.g. with ulnar nerve palsy.
The spring can also be turned upside down to increase the spring power.
Torque at full finger extension: ca. 1000 g.cm.
Gauge 1 mm – 1/24″ – Coil diameter 4 mm – 1/6″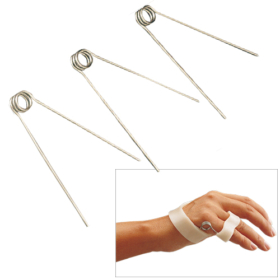 Product Information & Education
Visit our Useful Information & Educate Yourself pages for instructional videos, upcoming splinting workshops, guides for the fabrication of static and dynamic splints and frequently asked questions.
Find your Physical Rehabilitation distributor
Interested in our solutions? Contact your local Orfit-distributor for information, inquiries and prices.